Today's activities are all about the beach… la playa.
First, a challenge: How many Spanish words about the beach can you come up with? Write or say all the beach-related words you can as a family!
Then, take a look at this picture: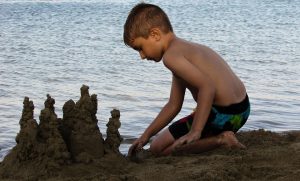 Ask your child, to describe, in Spanish, what they see happening in the image. Then come up with a Spanish story about him! What's his name? Where is he from? Why is he at the beach? Who is he with? What happens next? Make up a Spanish story together!
Finally, listen to this classic Spanish song all about life at the beach:

And here are the lyrics so you can sing along!
En el mar la vida es más sabrosa
en el mar te quiero mucho más
con el sol, la luna y las estrellas
en el mar todo es felicidad
Te verás bañada por las olas
y serás sirena de mi amor
hallarás amor entre sus aguas
y tendrás del mar su inspiración
Que una concha nos sirva de abrigo
con música de brisa y adornos de coral
y al vaivén de las olas tranquilas
los peces de colores nos lleven a pasear
En el mar la vida es más sabrosa
en el mar te quiero mucho más
con el sol, la luna y las estrellas
en el mar todo es felicidad