Playing pretend is a great way to get your little ones speaking Spanish. Today, imagine you are at the beach! Speak in Spanish about all the different things you will see and do while you're there. Show your little one this picture to set the mood.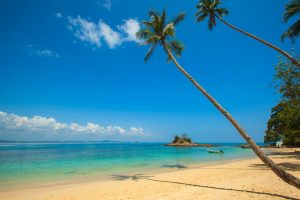 You can start off by saying:
Llegamos a playa. ¿Qué es lo primero que te gustaría hacer?
Here are some vocabulary words you can include in your conversation with your little one. Practice saying them together!
arena (sand)
ola (wave)
concha (shell)
pez (fish)
palmas (palm trees)
And if your kiddo is too young and isn't speaking yet, here's a great song you can play for him or her all about the beach.
Remember, music is an excellent way to expose your little one to the language.
Have fun at the beach!