This Saturday, thousands of people will march in Washington, D.C., as part of the March for Climate, Jobs, and Justice. With the administration's roll-back of key climate protections, we have to sound the alarm loud and clear: We must protect the planet for future generations. As the powerful signs at the March for Science reminded us last week, "There is no Planet B."
To spark some conversations on the subject with your kids, here are some wonderful children's books about taking action to protect the earth.
One Plastic Bag: Isatou Ceesay and the Recycling Women of the Gambia 
by Miranda Paul, Elizabeth Zunon (Illustrator)
Plastic bags were piling up everywhere in Gambia, where Isatou Ceesay lives. They accumulated in heaps along the side of the road and began to create a major, stinky health hazard. Ceesay hits on a simple and elegant solution — crocheting purses from the bags. This book, appropriate for kids in grades 1-4, illustrates the concept of what can and cannot biodegrade, and how a simple recycling solution can make major change.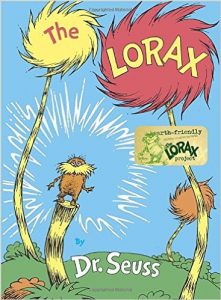 The Lorax
by Dr. Seuss
A familiar story to many, The Lorax follows the entrepreneurial "Once-ler" as he devastates his environment of fluffy fantastical trees and animals in order to build an empire, and lives to regret it. The book culminates in the now-famous line, "Unless someone like you…cares a whole awful lot…nothing is going to get better…It's not." This book is on the long side, but it's a wonderful way to introduce the topic of protecting the environment to children four and up.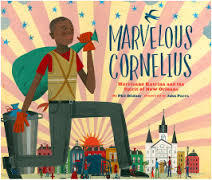 Marvelous Cornelius: Hurricane Katrina and the Spirit of New Orleans
by Phil Bildner, John Parra  (Illustrator)
Marvelous Cornelius is the story of a real trash collector in New Orleans who swept the streets of the Quarter while calling out to neighbors and kids along the way. When Hurricane Katrina creates a monumental amount of trash, Cornelius find that he has to join with others to get the job done. Told in the American folklore tradition with bright, bold colors, this book tells a tale of overcoming a major environmental disaster with the help of a strong local community effort.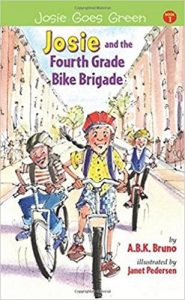 Josie and the Fourth Grade Bike Brigade
by Beth Handman, Kenny Bruno, Antonia Bruno, Janet Pedersen (Illustrator)
Josie Garcia, 9, learns about global warming and decides that she wants to tackle it head on, by organizing a Fourth Grade Bike Brigade. Her best friends join her and interest grows, but she runs into opposition from others in her community. Good for third- and fourth-graders, Josie's adventures explore taking action when not everyone agrees that your idea is a good one, even if it does help the environment.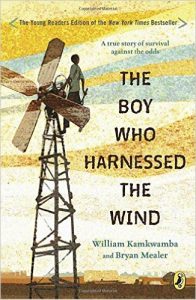 The Boy Who Harnessed the Wind, Young Reader's Edition 
by William Kamkwamba, Bryan Mealer, Anna Hymas
William Kamkwamba and his family are farmers in a Malawi village, but a drought causes a famine and reduces them to barely a mouthful of food a day. Kamkwamba has to forgo school, but he teaches himself how to build a windmill from salvaged bicycle and motor parts. An inspiring story based on an adult book, this book explores the concept of alternative energy sources in an approachable way. You can watch the author's TED talk afterward.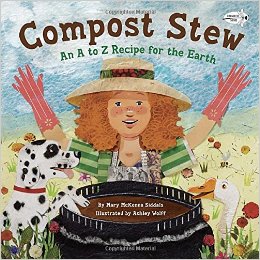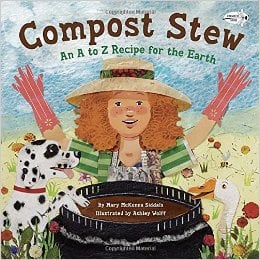 Compost Stew: An A to Z Recipe for the Earth Paperback
by Mary McKenna Siddals, Ashley Wolff (Illustrator)
Elaborate collage illustrations — made from recycled materials! — make this a fun A-Z book for very young children. The book uses rhyme to convey the recipe for "compost stew", and it could be paired with a related activity, like sorting vegetable scraps, at home.
More Resources
You can find more children's books about the environment at A Mighty Girl.
If you plan to bring the kids to a march this weekend, you might find our tips on marching with kids from the Women's March helpful.
Have you signed our Save PBS Kids and #NoLunchBan petitions? Stay up to date on the latest actions to protect families via our Facebook Messenger bot!